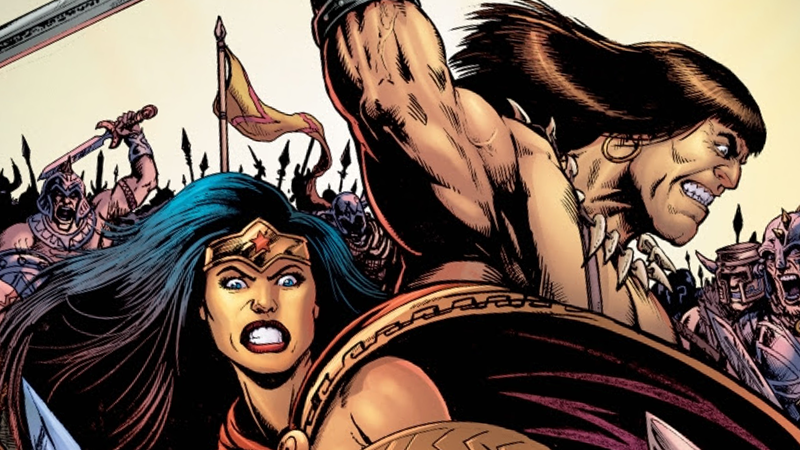 "The story starts with Conan washing ashore in a unusual land and meeting Wonder Woman, a legendary gladiator".
The six-issue series, co-published by DC Entertainment and Dark Horse, will see Gail Simone and Aaron Lopresti - who collaborated on a Wonder Woman run from 2007 through 2010 - reunite to bring Conan to a odd new world, where he soon comes face to face with its most terrifying gladiator: Wonder Woman. The six-issue series is set to arrive in late-September, and here's first issue's official description, along with the cover to issue #1.
Wonder Woman and Conan the Barbarian seem like pretty logical characters to pair together. A major draw is getting to reunite with the great Aaron Lopresti, whose very favorite things to draw are Wonder Woman and barbarians.
Simone and Lopresti previously worked together on Gail's legendary run on Wonder Woman, one of the most well-regarded stretches by a writer on Diana's comic ever. The two are then captured by a powerful slave owner and must battle against a dark power that aims to destroy them. They're Wonder Woman and Conan the Barbarian, and the two comic book icons are finally meeting up for a team-up that took way too long to happen. Also writing Dynamite's "soft reboot" of Red Sonja, Simone handled the character's revised origins and was met with a slew of positive reviews in 2013. It certainly beats searching Google for Wonder Woman and Conan to only come across videos of Gal Gadot and Conan O'Brien.
The six-issue crossover will hit stands on September 20.