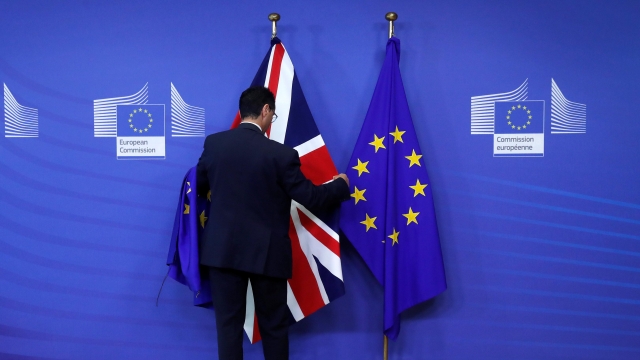 Mr Barnier said: "We will now delve into the heart of the matter". UK's negotiating chief is expected to return to Brussels to wrap up the second round of talks and assess this negotiating week alongside Barnier at the Berlaymont press room.
Mr Hammond lifted the lid on cabinet feuding by claiming damaging stories about him had come from fellow ministers out to get him because he is pushing for a softer Brexit.
They then left the podiums without answering any questions from the fathering media, with the Frenchman saying the pair needed to work to which the Brexit secretary replied: "Work, yes that's right - work".
The British side had urged over the past months an immediate start of trade talks, but Barnier had insisted that key issues of Brexit must be dealt with before trade talks begin.
Davis wants to focus on the rights of European Union nationals, an issue made perhaps somewhat muddier by fresh studies suggesting voters would be happy with a trade-off in which opposition to free movement is eased in return for ensuring access to the single market.
"The plenary meetings [of the Brexit talks] will show us whether there is a realistic basis for agreement or whether the British government can not move at all because of its own problems", said Elmar Brok, a German centre-right MEP who helps coordinate the European parliament's position on Brexit.
Barnier, who has repeatedly called on weakened British Prime Minister Theresa May to quickly set out her divorce strategy, said they needed to "examine and compare our respective positions in order to make good progress". Asked point blank on Monday if the cabinet was "split on Brexit", Johnson simply said he was pleased negotiations had begun and then defended the offer May has made to protect the rights of European Union citizens in Britain.
"I think on many fronts it would be helpful if my colleagues - all of us - focused on the job in hand".
"For us, it's incredibly important we now make good progress", added Davis, who held a first day of talks a month ago to agree an agenda, a year after Britons vote to leave the EU.
Asked how long that period would be, he said: It depends how long we need to put in place new customs systems, new migration systems; these things can't be magicked up overnight. Meanwhile, Liam Fox, the International Trade Secretary, fired his own warning shot by laying down strict conditions for any transitional deal, as demanded by the chancellor.