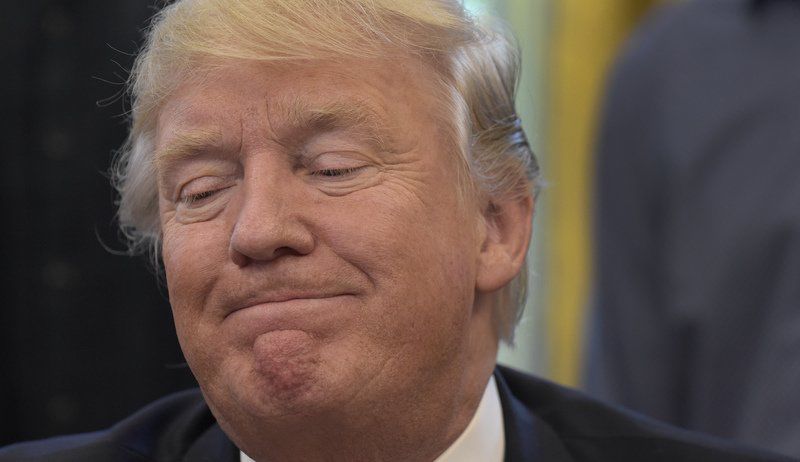 President Donald Trump appears to have no idea what health insurance actually costs. We are talking about true, life or death situations for millions of Americans and Trump thinks it is just pocket change.
And yet his ignorance was made even more transparent this week during a New York Times interview when he attempted to explain what a regular American faces when dealing with health insurance.
At times, Trump showed a shrewd grasp of the some realities of politics, saying of entitlements, "once you get something, it's awfully tough to take it away".
In his interview, he says (addressing reporter Maggie Haberman): "What it does, Maggie, it means it gets tougher and tougher".
Pre-existing conditions are a tough deal.
Haberman: That's been the thing for four years. Ted Cruz to the Senate healthcare bill would allow insurers to get around protections for preexisting conditions for many people or charge more for plans that protect them. It's a very tough deal, but it is something that we're doing a good job of. Because politically, you can't give it away. Except that the president also goes on to say that one's health insurance gets better the longer one has it, so that by "the time you're 70, you get a nice plan". This prompted a number of observers to wonder if Trump was confusing health insurance with the life insurance ads that air in heavy rotation on cable news. Even after a monthly tax credit of $US169 under Affordable Care Act provisions, the plan would still cost $US31 a month - almost triple what Trump said insurance costs for the year.
The actual average premium for a single person is $538 a month, with employees paying about 18 percent and the employer picking up the rest, according to the Kaiser Foundation. It sure didn't make too much sense to Twitter users who couldn't miss the opportunity to mock the president's lack of grasp regarding the real cost of health insurance. Read excerpts from the interview.