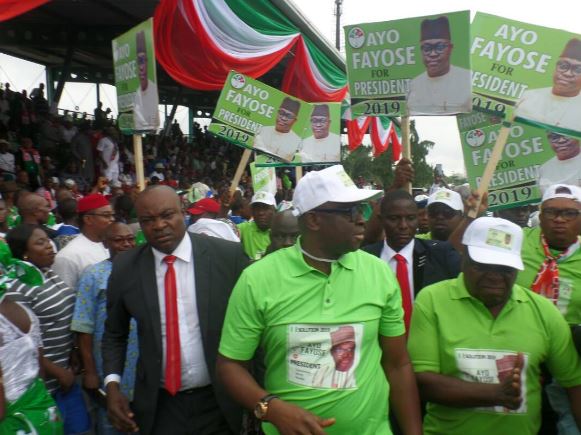 He made this statement at the ongoing PDP National Non-elective convention at the Eagles Square, Abuja.
Governor Fayose in 2019 Presidential campaign shirt and cap at PDP's National Convention in Abuja Recall that Governor Fayose had in June this year said that he would take presidential powers out of President Muhammadu Buhari's hand to become Nigeria's next president by contesting the 2019 presidential elections.
Governor Fayose also said that the Peoples' Democratic Party "has bounced back fully to life and is going straight back to the Aso villa come 2019 elections".
According to him, "Nigerians have entered one chance in this government".
Speaking prophetically and confidently, Governor Fayose who had earlier launched his Presidential campaign revealed that he will return to the Federal Capital Territory by 2019.
"Out of that one chance, we will give you plenty chances".
"The crowd here in the convention arena is a testimony of what is happening in Nigeria; the party is now a religion and a belief that we are going back to "our villa". God will be with us.
He urged members of the party and supporters to not only work towards, but should begin to congratulate themselves because "re-occupying Aso Rock in 2019 is certain". We make mistakes but our ability to correct them if what is important.
"Shake the persons next to you and tell him or her congratulations for 2019. I don't know about you but as for me, I am in Aso Rock already", the governor said while asserting that he is confident that the PDP will take power back from the ruling APC in 2019.
"I want to congratulate our great party and to assure Nigerians that we are going to deliver them from all they are passing through".