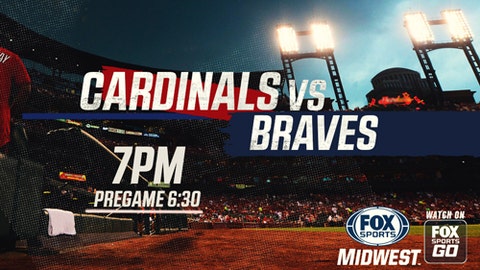 Randal Grichuk and Paul DeJong homered, and St. Louis won for the eighth straight game with a 6-5 victory over Atlanta on Saturday. He also added a double in a three-run outburst in the fifth.
Rookie shortstop Paul DeJong hit his 17th homer of 2017 in the seventh inning that gave the Cardinals the 6-3 advantage they took into the ninth.
The last eight game winning streak for the Cardinals was from April 28th through May 5th, 2015, the longest streak of Matheny's managerial career. He struck out seven and walked one.
Martinez gave up three runs over six innings on seven hits. Rosenthal picked up his 11th save despite giving up a two-run single to Freddie Freeman.
Tyler Lyons, who worked two scoreless innings out of the Cards' bullpen, has not allowed a run in each of his last 13 appearances. Adam Wainwright toughed out five innings, while battling a sore right arm to get the win and raise his season mark to 12-5.
Atlanta jumped to a 2-0 lead on a bases-loaded single by Kurt Suzuki in the first.
Prior to Saturday's game, the Cardinals introduced members of the 1987 National League Champion Cardinals, including Willie McGee and Ozzie Smith, who had first pitch honors.