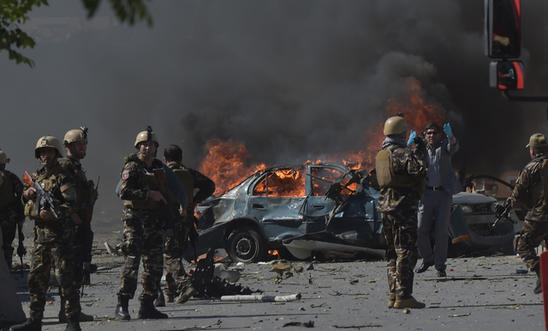 An worldwide human rights group says European states are returning many more Afghan asylum seekers despite growing insecurity and violence across the war-ravaged country.
Amnesty International said in its report Thursday that European governments remain willfully blind to the country's dangers and that Europe and the European Union are putting Afghanistan under tremendous pressure to accept large numbers of returnees.
The year 2016 was the bloodiest one for the civilian population in Afghanistan, with 3,498 killed and 7,920 injured.
Civilian casualties stayed at record highs in the first half of 2017 as the war enters its 16th year.
Between 2009 and 2016, UNAMA calculates that almost 25,000 civilians were killed and more than 45,000 wounded.
Afghanistan has suffered four decades of violent conflict and 16 years of war that began with the USA invasion in 2001 to target the instigators of the 9/11 attacks. The violence and deteriorating security has persisted this year.
On May 31, in one of the largest attacks in Kabul's history, more than 150 people were killed and twice as many injured when a bomb exploded in one of the best-protected districts of the capital.
In August, militants stormed a packed Shia mosque in Kabul during Friday prayers, ending with at least 20 worshippers killed and another 50 seriously wounded.
"I have never met people who are so scared as the people I met in Kabul", said Anna Shea, a campaigner for Amnesty. Even when the authorities recognize that a person's home province might not be safe, they say he or she could merely relocate to a safer place elsewhere in the country.
"Here I live in fear".
Norway appears to be the European country responsible for the largest number of forcibly returned Afghans, the report found.
Horia Mosadiq, Amnesty International's Afghanistan researcher, said the returns violate worldwide law. The call comes after a steady rise in violence over recent years as the Taliban has gained ground across the Afghanistan, Reuters said.
In 2016 the five European countries from which the most Afghans returned were: Germany (3,440); Greece (1,480); Sweden (1,025); Britain (785); and Norway (760). "The same European countries that once pledged support for a better future for Afghans are now crushing their hopes and abandoning them to a country that has become even more risky since they fled", said Horia Mosadiq, Amnesty's Afghanistan researcher.