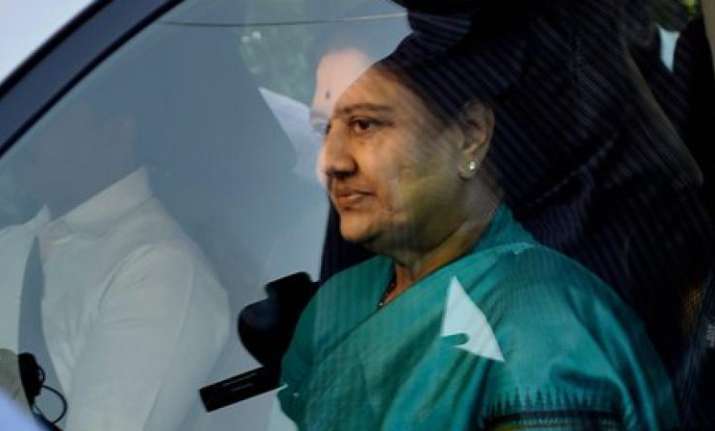 Eight months is a long time when one looks at the political hyperactivity in the state of Tamil Nadu.
"Sasikala has returned to the prison on Thursday at around 4.30 p.m. within the stipulated time", Bengaluru Central Jail Superintendent G. Somashekar told IANS here.
For the uninitiated, Sasikala was out on a five-day emergency parole to visit her ailing husband in Chennai. So when VK Sasikala, the woman considered to be former CM J Jayalalithaa's shadow, came back to Chennai after eight long months, it became an occasion for celebration for AIADMK members from her camp.
During her five-day parole period, she stayed at the residence of Krishna Priya, daughter of her sister-in-law Ilavarasi. On all five-days of her parole in Chennai when she visited her husband M.Natarajan at the private hospital her camp, in a show of strength, ensured that she received moving reception from people at vantage points. She named newborns babies of party workers during her hospital visits by halting her vehicle on the way of Hospital.
After completion of her allotted parole time, Sasikala started her journey from the residence to Bangalore's Parapanagrahara prison where she is to spend three more years to complete her sentence.
It certainly wasn't what people were used to see with Amma's arrival to any venue, but the sight of people jostling to catch a glimpse of Sasikala despite the police discouraging the crowds says a lot about her clout.
For prisoner 3295 (Sasikala), the roads were filled with AIADMK party workers who had come to see off their chinamma.
Well, if this was not enough, just meters ahead of the Raj Bhavan in Chennai, the convoy was again stopped by a small group of people with the party flag in their hands and raising praises for Sasikala.
Sasikala has never had the god-like image that Jayalalithaa enjoyed. A few couples in fact wanted their children to be named by Sasikala. It's hard to say anything at the moment. Chinnamma too is off on a similar exile. "When she returns, she will be our leader", one supporter said.