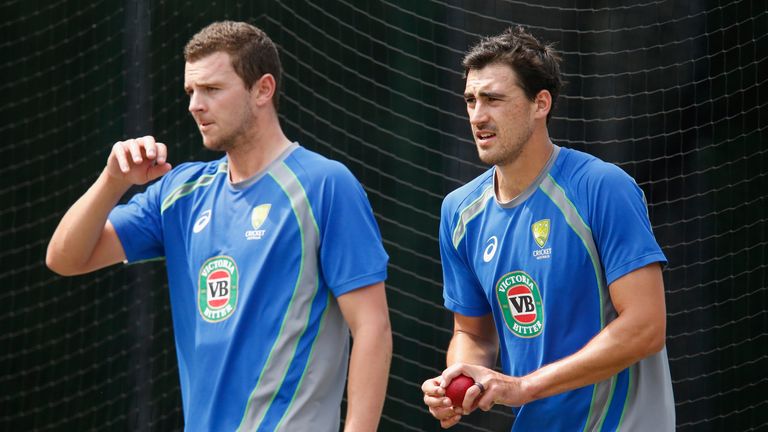 In the last home Ashes series, fiery left-arm quick Johnson terrorised England as he claimed 37 wickets to help seal Australia's 5-0 whitewash.
After 4 years, at home, Pat Cummins wants to emulate his former comrade had done.
Cummins burst onto the worldwide scene in 2011, taking 7-117 on his debut against South Africa at the Wanderers but he had to wait six years to play in his second Test after numerous injury problems.
"We saw what Mitchell Johnson did last Ashes series here - it would be a role I would love to play". "As a fast bowler, it's (about) getting in their face and being relentless in everything we do".
"I just can't wait to get out there". "As a kid growing up, you watch a lot of Test cricket on TV", he said. "That's a role I would like to play".
Cummins said his long battle back would make his first home Test all the more special.
"My body hasn't been in the position where I can play all the time, where at the moment I feel like I am now, " he said. "It all happened really quickly and didn't give me a chance to stand back and realise what I was actually doing".
Johnson - who retired in 2015 - also had to combat injury early in his career before emerging as the world's most feared bowler.
"Whereas here it feels like I play a game and all I have to think about is the next game coming up. Now I'm at the stage where I don't have to worry about it", he added.
Australia's Josh Hazlewood is a "genius" with line and length and will have no trouble being ready for next week's Ashes opener against England despite having had only a single warmup match, fellow seamer Mitchell Starc has said.
But Cummins admitted he was still unsure whether he could get through a five-Test series. The 24-year-old has made a successful comeback to Test cricket after playing in India and Bangladesh this year.
"I feel like I'm in a really different position to what I was the last few years".