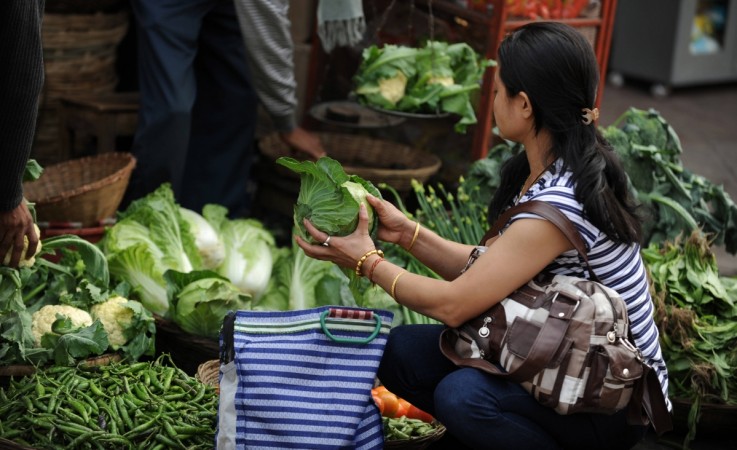 Rising food, vegetable and fuel prices pushed wholesale price inflation to a six-month high of 3.6% in October, dimming hopes of a cut in interest rate when the RBI meets to review monetary policy next month.
According to data from the Ministry of Commerce and Industry released on Tuesday, the wholesale price index (WPI), with the revised base year of 2011-12, went up in October to 3.59 per cent from 2.60 per cent in September.
Inflation in food articles more than doubled to 4.30 percent in October. Vegetable inflation in September had risen by 15 per cent.
Wholesale prices had accelerated in August to 3.24 per cent from July's rise of 1.88 per cent and an increase of 0.90 per cent was reported for June.
The index for "Manufacture of Tobacco Products" group declined by 1.3 per cent to 148.9 (provisional) from 150.9 (provisional) for the previous month due to lower price of cigarette (five percent) and other tobacco products (two percent).
Inflation rate for the "manufacture of furniture" group rose 3.7 per cent due to higher prices of foam and rubber mattress, wooden furniture and steel shutter gate.
The index for "Food Articles" group rose by 2.2 per cent to 148.0 (provisional) from 144.8 (provisional) for the previous month due to higher price of fruits and vegetables (9 per cent), tea (5 per cent), poultry chicken (3 per cent) and paddy (1 per cent each). Another important thing needs to be noted is that high inflation of fuel and power has cascading effect on the whole economy.
In terms of food prices, the YoY (Year-over-year) wholesale inflation rate for onion was higher by 127.04 per cent, whereas for potatoes it plunged by (-) 44.29 per cent. Power tariffs shot through the roof on lower domestic production. In October past year, it was 1.27 per cent.
The sub-category of manufactured food products registered a rise of 1.26 per cent.
Last month, the Reserve Bank of India (RBI) has raised its inflation target to 4.2-4.6 percent for the second half of this fiscal year from 4-4.5 percent, reflecting the combined impact of unfavourable base effects, the upturn in food prices. The inflation for manufactured products jumped to 2.5% in April-October FY2018 from 0.3% in April-October FY2017. The contribution of fuel product group increased to 105 bps against 89 bps in September 2017, while that of manufactured products eased to 167 bps compared with 173 bps.