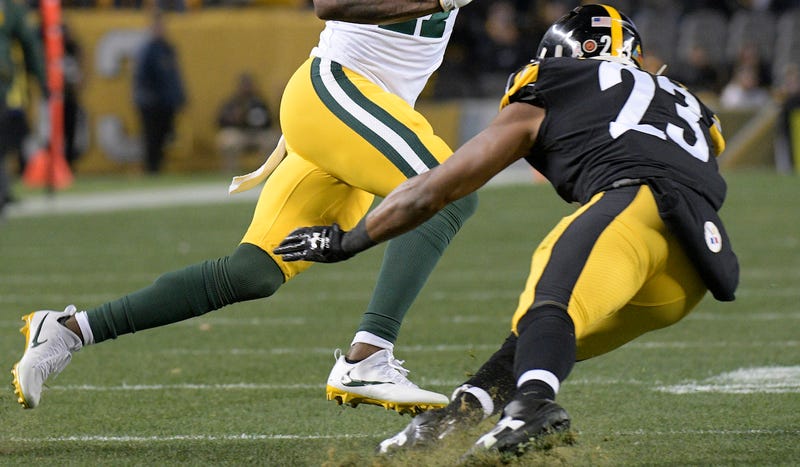 The Steelers safety stood in front of his locker and went on a two-minute (give or take) rant that touched on just about everything relating to football and the questions people ask about the play during the Monday night game. At the end of the day this is Foot-Ball. If you wanna see flag football, then let's take our pads off, that would make it easier for me. Now, I don't have to wear heavy [expletive]. Give us flags for me to pull off so that way I know what we are playing.
There's no denying that football is a violent sport.
Mitchell pointed out that some of the illegal hits result from quarterbacks throwing an inaccurate pass that forces a receiver to dive, resulting in the player being hit in the head.
Mitchell said that happened two years ago on his hit on Bengals tight end Tyler Eifert, eliciting a hefty fine.
Many people out there (like Brent Musburger) may have agreed with Mitchell, but he certainly doesn't speak for all National Football League players.
And that's really the problem with the entire process. Smith-Schuster is the first Steelers player to be suspended this season.
"That's 50 grand out of my pocket because Andy (Dalton) throws a bad ball". This is a man's game. So don't give me that name.
Mitchell slowed down his rant, then pointed out he was obviously "a little flustered" and asked for commissioner Roger Goodell to do better. You have to know the risk when you sign up.
Check out more from Mitchell on how he feels about the current game in the tweet below.
College football has a simple rule: if you receive a targeting penalty, you're immediately ejected from the game. "But from the players' standpoint, I just don't understand what they're doing, what they're talking about, because the evidence is there", he added. "We've got to get better leadership as who's running the league".
"Fans, owners, players are all disappointed in Roger Goodell". There needs to be a set guideline on how you do what you do. If you don't know me and you've never had a conversation with me, don't judge us on what you see in football, because football's my competitive side.
"I don't like to compare players and suspensions, things like that, but if you look at what Gronk did and what JuJu did and they got the same suspension - I don't know if that's necessarily fair", Roethlisberger said. "We can't have a guy where you just hand out discipline how you see fit". There's no way I see two people get post-play infractions that don't have to do with football and you get the same suspension as the guy who's making a football play in a football game.