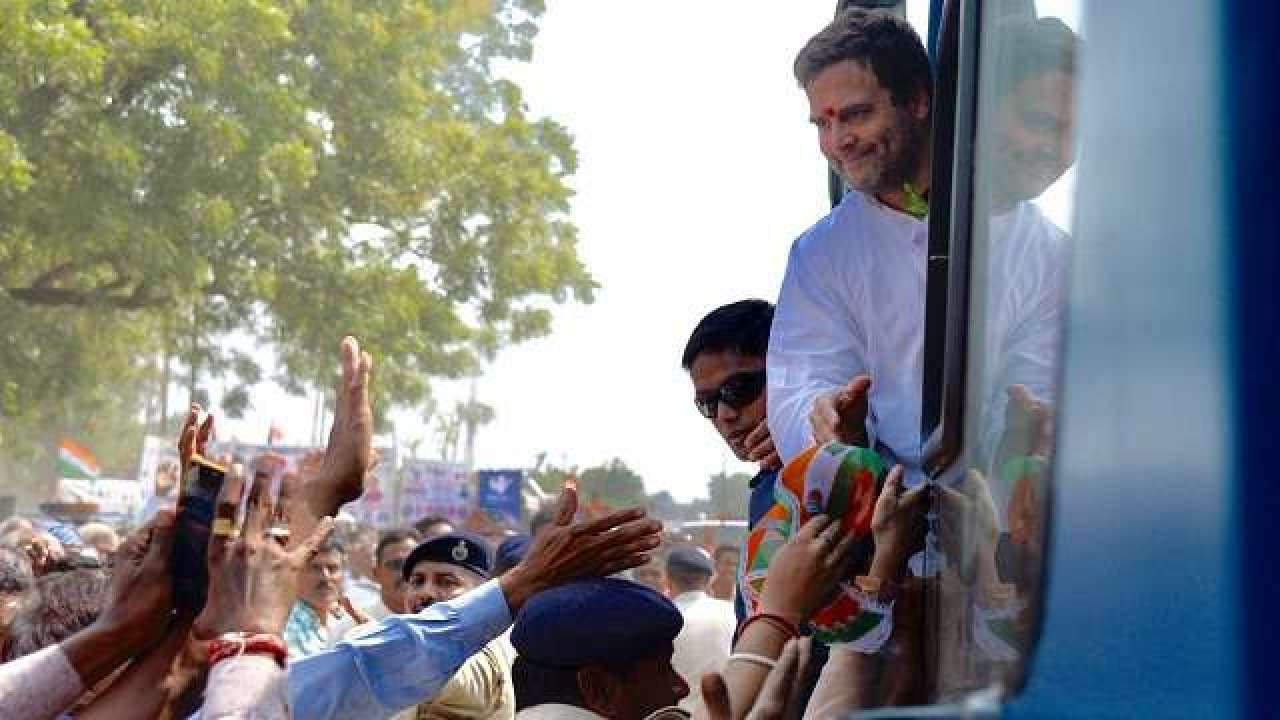 Congress leaders Ashok Gehlot and Bharatsinh Solanki released the party's manifesto for the forthcoming Gujarat Assembly polls. A loan of farmers will be waived Farmers will be given electricity on a priority basis, as is being given to private industries at this time.
MEET THE MEN BEHIND CONG MANIFESTO The Congress manifesto has over 500 points covering every person in Gujarat. In this, there are breathtaking promises of up to Rs 10 a liter of petrol and loan forgiveness from farmers.
The party promised to pay unemployment allowance up to Rs 4000 for every unemployed youth, and said that it would also request the GST council to exempt small traders with an annual turnover up to Rs 1.50 crore.
The party has promised filling of vacant government positions and cancellation of outsourcing of jobs as well as contract and fixed salary systems.
To tackle price rise, the party mentions a number of soaps in their manifesto such as reducing the price of petrol/diesel by Rs 10 per litre and slashing state taxes in the price. To attract youths, the party has announced laptops and smartphones for students. The Congress also chargesheeted BJP government which has been in the power for 22 years, alleging that the saffron party has failed to live up to its promise of delivering Gujarat free of fear, hunger and corruption. The manifesto said that without making any changes to the already 49% reservation for the backward communities, the Congress will introduce a bill in the Assembly under article 46 of the Constitution and keeping in view the provisions of Article 31 (c) for the non-reserved communities category. Apart from this, the party has said that if their government is formed they will halve the electricity bill in the state.
This is to give equal opportunity in education and employment to the economically backward class of non-reserved category of the society. Reacting to the Congress manifesto, state BJP chief Jitu Vaghani said that the Congress is selling dreams.
Reaching out to businessmen, the Congress said it would set up fast track courts for serious economic offences to deal with cases of defaults, cheque bounce, cheating, fraud, extortion, land grabbing etc.
The Congress will also adopt a Smart Village Policy to stop migration and make provision of ponds, playgrounds, sanitation and drinking water supply to villages. Congress also promised to set up a network of Rajiv Gandhi Pharmacy - a chain of subsidised medicines network - across the state. It also commits to implement a "happiness index' to measure holistic growth, instead of the gross domestic product (GDP)".