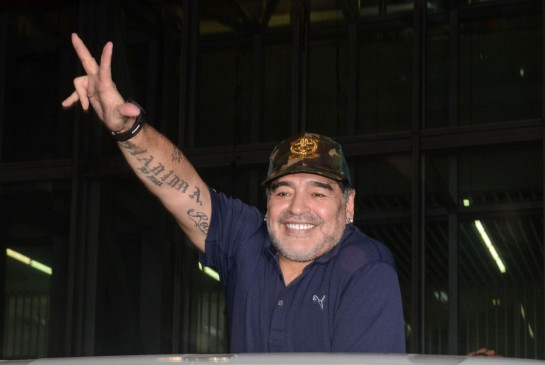 His second visit in nine years may have been a low-key one unlike in 2008, but the legend still charmed about a thousand-odd crowd at a charity event in a north Kolkata club this afternoon. The statue will be kept at a park named after him - "Maradona Park" in Kolkata.
He was sporting a blue T-shirt and a cap, the Argentine and his partner Rocio Olivio landed past 7 pm via Dubai and headed straight to the hotel in New Town, Rajarhat.
"I am not god of football but a simple footballer. India is a very passionate football nation, and I look forward to meeting a whole new generation of fans while continuing to spread the overwhelming love that I have for this attractive game", he said.
The iconic player, who is now coach of the Dubai-based club Al-Fujairah SC, was seen waving at fans before getting into the vehicle, flashing the "victory" sign at camerapersons and supporters and throwing flying kisses. "I'm happy to be here in Kolkata again", he added.
The monument depicts the moment the Argentinean legend lifted the 1986 World Cup and has already drawn some unfavourable reviews from fans on social media.
The 57-year-old was supposed to unveil the statue in Kolkata at the beginning of the Durga Puja festival in September but his trip was postponed.
He is also expected to take part in a charity soccer match involving Indian cricket team captain, Sourav Ganguly.