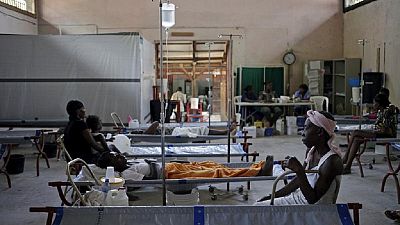 Six US CDC cholera control experts are in Zambia working with the Ministry of Health and Field Epidemiology Training Programme (FETP) on cholera prevention and control activities.
Zambia has banned church services in parts of its capital city Lusaka, as the nation fights an epidemic of cholera.
Government ministers announced on January 7 that gatherings of every nature, including church services, have been banned in areas most affected by the epidemic. Additionally, schools have indefinitely suspended classes for students. The Zambian bishops' conference has followed suit to avoid potential disease spread by touch: there will be no handshake of peace in the areas where the Mass still takes place.
On Jan. 8, representatives of three Christian communities in Zambia - the Catholic Church, the Council of Churches in Zambia, and the Evangelical Fellowship of Zambia - issued a statement expressing their grief over the cholera crisis.
Police were seen bundling several protesters into vehicles although officers were unable to confirm how many people had been detained in connection with the clashes.
Cholera is a water-borne diarrhoeal disease that can kill within hours if left untreated, but is easily cured with oral rehydration, intravenous fluids and antibiotics.
Mr Mulder said containing the disease was an expensive undertaking, hence the need for stronger stakeholder participation, and that Zambians should practise good hygiene to prevent further spread of cholera.
Recent investigations have found that the outbreak has been caused mainly by food contamination.
Zambian defense forces have been ordered to clean up the streets of Lusaka to help control the epidemic. Two million doses of cholera vaccinations have been donated to the country by the UN Children's Fund.