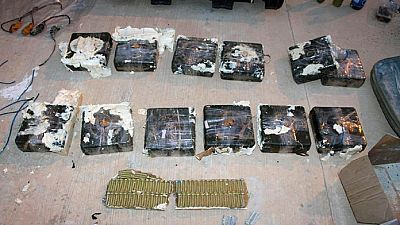 Greek Coast Guard announced on Wednesday that Tanzania-flagged freighter "Andromeda" and its cargo of explosives bound for Libya, were seized off the island of Crete a few days ago.
"The coast guard neutralized a moving time bomb that could have had unpredictable consequences both for people and for the marine environment", Rear Admiral Yiannis Argyriou was quoted by Kathimerini as telling reporters. Authorities found 29 containers carrying materials including ammonium nitrate, non-electric detonators and 11 empty liquefied petroleum gas tanks.
Greek authorities stopped the ship south of Crete and brought it ashore after receiving a tip.
The explosives were reportedly loaded on the freighter in the southern Turkish port city of Mersin and destined for Djibouti and Oman.
The European Union and United Nations have had embargoes on the supply of arms to Libya since 2011.
The ship and ship's cargo were confiscated and the ship taken to the Cretan port of Herakleio.
The skipper told investigators that he had been ordered by the ship's owner to sail to the Libyan port of Misurata and not Djibouti, the destination listed in the ship's itinerary.
The crew will be led before a Piraeus public prosecutor on Thursday.