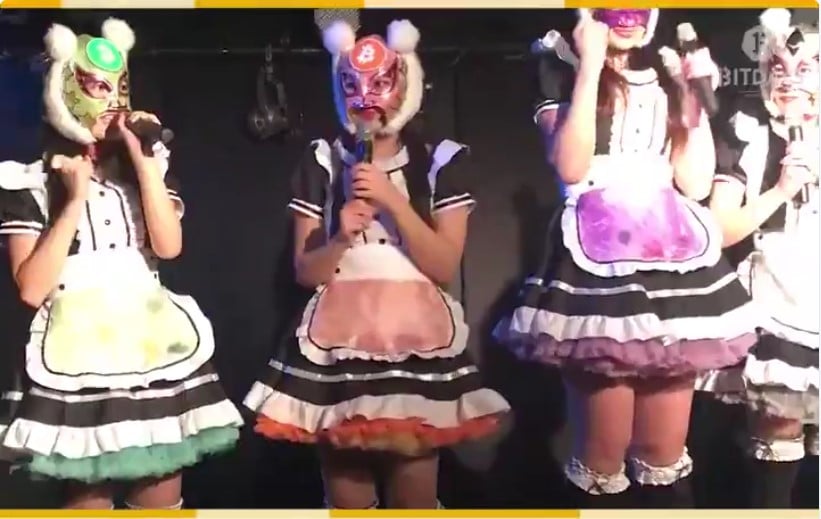 And eight of those people are now in a Japanese pop-idol group that exists to extoll the virtues of mysterious-to-most-of-us cryptocurrencies like bitcoin.
Talk about jumping on a bandwagon - Japanese pop group Virtual Currency Girls (or Kasotsuka Shojo in Japanese) have made a decision to dedicate their careers to making banging tunes and dance routines about cryptocurrencies. The members of the group wear frilly French maid dresses and lucha libre masks, and each member is supposed to represent a different form of cryptocurrency.
Payment for the Virtual Currency Girls debut concert Friday (Jan. 12) in Tokyo will only be accepted via cryptocurrencies, according to the band's official site (link in Japanese).
"We want to promote the idea through entertainment that virtual currencies are not just a tool for speculation but are a wonderful technology that will shape the future", Rara Naruse, the group's reported leader, told AFP in an online statement.
And if the catchy name wasn't enough to get you dancing to the tune, then perhaps the singalong-friendly lyrics like 'Be careful about your password, don't use the same one!', will get you in the cryptocurrency groove. And, of course, all mechandise at the venue, concert tickets and the group's salaries are paid for in Bitcoin, because how could they not be? "Don't use the same one!" to warn against the dangers of trading cryptocurrency, and also more obscure ones, in English, such as "Hot day, forget myself, go to the moon".
Japan and South Korea are home to some of the bigger digital exchanges, with investors piling in as growth in bitcoin and other cryptocurrencies soared previous year, provoking regulators' concerns.