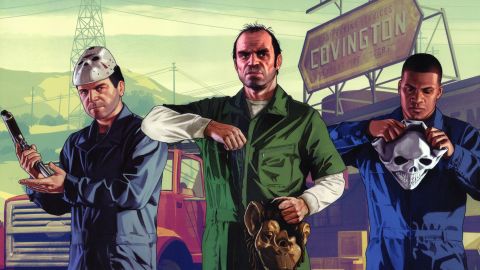 Thanks to a number of sources speaking to Kotaku UK, on condition of anonymity, we now know what's going on with the release window and contents of Grand Theft Auto V: Premium Edition.
Although you'd barely imagine there's anyone in the world left that doesn't own a copy, considering it's sold over 90 million units in less than five years, there's growing evidence that Rockstar are about to release a new version of Grand Theft Auto V. First there was a listing on Amazon Germany, then this past weekend the game got rated by the South Korean Rating's Board.
Well, the rumor about a release date of 23rd of March has been hit once more, as based on Kotaku's word, they have the concrete details that point towards the release date of the premium edition of the game to be pushed to April. Originally set for March 23 release the Premium Edition will now be coming somewhere in April. The Criminal Enterprise Starter Pack, which was released as paid DLC back in December, contains the following content for GTA Online which, if you believe everything you read, has a value of over $10,000,000 GTA dollars.
Properties: Maze Bank West Executive Office, Paleto Forest Gunrunning Bunker, Senora Desert Counterfeit Cash Factory, Great Chaparral Biker Clubhouse, 1561 San Vitas Street Apartment, 1337 Exceptionalists Way 10 Car Garage. All the content is been released already before and this edition is just a bundle of everything at one place.
The intention, say Kotaku, is to replace the standard release at the same price, making it ideal for newcomers interested in GTA Online.
There isn't anything new in this version according to this report, so if you've purchased the original game and all its DLC it probably wouldn't be worth your time to buy the premium version 2.