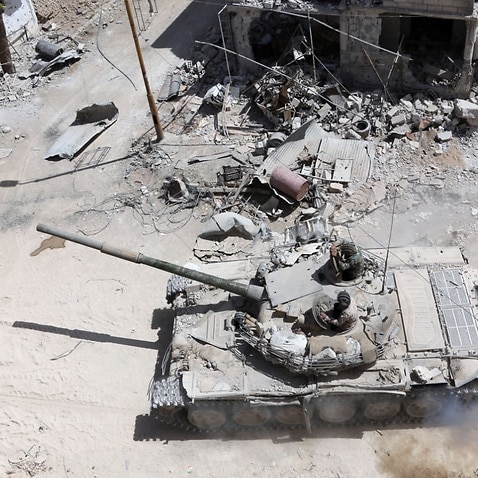 The Syrian Army has declared that all anti-regime forces have left Eastern Ghouta, after a blistering two month offensive on the rebel enclave on the outskirts of the capital. The government's capture of Douma, the last town held by the rebels in eastern Ghouta, marks a major victory for Assad.
Earlier in the day, US President Donald Trump announced the military action in Syria in response to the alleged chemical weapons attack in the city of Duma in the Eastern Ghouta.
"Following a number of concentrated and powerful military operations in the past week, units from our courageous armed forces and its allies managed to cleanse Eastern Ghouta in all its neighborhoods and (surrounding) villages, from the armed terrorist organizations after driving out all terrorists from the city of Douma, the final base for terrorists in Eastern Ghouta", said a statement released by the military late on Saturday.
Heavy fighting and devastating bombings have killed more than 1,700 civilians, according to the Syrian Observatory for Human Rights (OSDH), an NGO that has an extensive network of sources in war-torn Syria.
The army said that the victory in Douma comes as the United States, Britain, and France have launched missile attacks on the Syrian military positions earlier on Saturday.
A team of experts from the Organisation for the Prohibition of Chemical Weapons is now in Damascus and expected to investigate the site of the alleged chemical attack.
The regime has been accused of carrying out a chemical weapons attack last week on the town of Douma, the final part of the enclave where rebels were balking at a Russian-brokered deal to evacuate them to northern Syria.
The group Jaich al-Islam estimated Saturday that the raids carried out by the Westerners would be a "farce" as long as President Bashar al-Assad remains in power.
The Syrian government strongly denied the allegation, calling for the Organization for the Prohibition of Chemical Weapons (OPCW) to send a fact-finding mission for investigations.
Dozens of civilians in government-controlled central Damascus were also killed by rockets and mortar rounds fired from Eastern Ghouta by the rebel groups that held it.
In its statement, the army said the bomb squad started inspecting squares and streets to remove roadside bombs left by the militants in that area, preparing for other army units to secure the area for the return of the families to their homes.
In the aftermath of this attack, the last rebel faction on the ground, the Islamist group Jaich al-Islam, had agreed to an evacuation agreement for its fighters sponsored by Moscow, similar to the initiatives that had already forced the groups Faylaq al-Rahman and Ahrar al-Cham to leave other areas of Ghouta.
The two-month assault on Eastern Ghouta sparked an global outcry, with the head of the United Nations describing the conditions endured by civilians there as "hell on Earth".