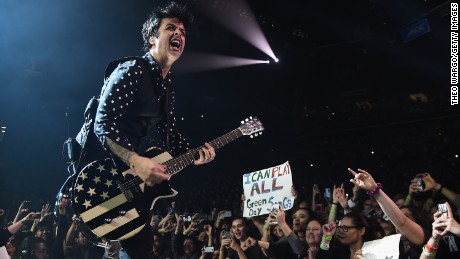 The 2004 Green Day hit song "American Idiot" is climbing the charts in the United Kingdom ahead of President TrumpDonald John TrumpMichelle Wolf in July Fourth salute: "God bless abortions and God bless America" Graham: Trump's Supreme Court picks "all winners" Man arrested after allegedly threatening to kill Trump supporters, GOP lawmaker MORE's visit there later this week.
As it now stands, American Idiot is sitting at number 18 in the midweek charts. Keep sharing to others what we are all doing!
Despite attempts to use the song to spite President Trump, "American Idiot" is actually inspired by former president George W. Bush and the Iraq War, and features lyrics criticizing the media - one of President Trump's most famous enemies. He'll meet Queen Elizabeth and huddle with British Prime Minister Theresa May but, in a break from custom for a visit by a foreign leader, he will not visit Downing Street. After Trump's "working visit" - as opposed to a formal state visit - was announced in April, the effort went into overdrive.
The president is scheduled to stay in London on the night of his arrival but will spend the rest of his trip outside of the capital.
Billy Joe Armstrong of Green Day (C) and the cast of "American Idiot" sing "21 Guns" at the 52nd annual Grammy Awards in Los Angeles January 31, 2010.
A Twitter account created to increase the song's popularity ahead of Trump's visit indicated over the weekend that the track was a top-10 seller on iTunes, as well.