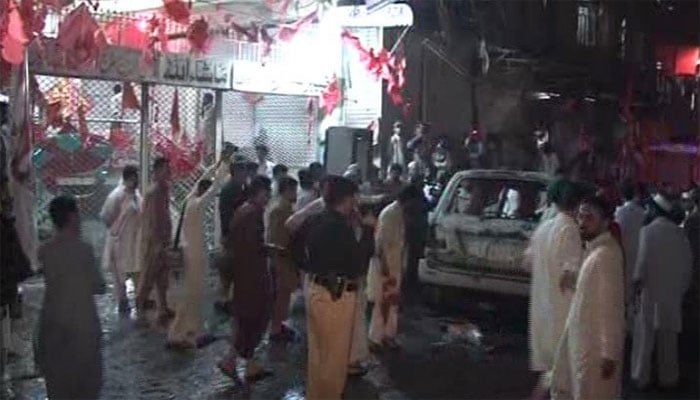 The attack on a meeting of the Awami National Party (ANP) in Peshawar also injured almost 50 others, city police chief Jamil Qazi said. His father, Bashir Bilour, also a prominent ANP politician, was killed by a suicide bomber in 2012. According to the sources, 47 people got injured in the blast and now are under treatment at Lady Ready Hospital in Peshawar. The casualties were driven to the Lady Reading Hospital (LRH), where medics confirmed the death toll.
The police officer did not confirm the nature of the blast, however, a local ANP leader while talking to DawnNewsTV said that a suicide bomber blew himself when Bilour entered the compound where the meeting was being held.
Rescue teams and law enforcement agencies have reached the site of the blast and investigations into the incident are now underway.
Bilour belonged to an influential political family in the Khyber-Pakhtunkhwa province, of which Peshawar is the capital. This is the second attack before Pakistan's assembly elections.
Tuesday's attack came hours after the military said it would deploy more than 3,70,000 security forces to polling stations to ensure free, fair and transparent national elections on 25 July.
There was no immediate claim of responsibility for the attack, the first major pre-election violence.
They have often been claimed by the Pakistani Taliban and their allies.
The National Counter Terrorism Authority on Monday had told a Senate standing committee that some leading political leaders faced death threats from militant outfits ahead of the 25 July general elections in Pakistan.
Another party worker, Yaseen Khan, said a deafening explosion rocked the compound as Haroon Bilour shook hands with supporters.
Meanwhile, Pakistan's Chief Election Commissioner (CEC) Sardar Muhammad Raza strongly condemned the attack, reports said.
Punjab chief secretary was informed that days before he was killed in a drone attack in Afghanistan, TTP commander Mullah Fazalullah had issued directives to increase terrorist activities in Pakistan - to target the PPP and ANP during the general elections, in addition to carrying out terrorist attacks in various parts of Pakistan.