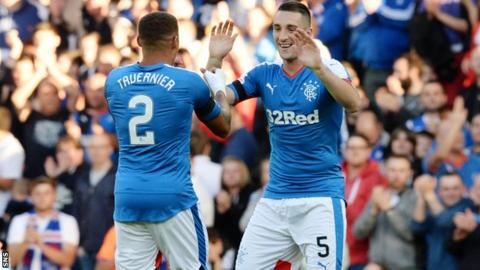 "The fans are with us, and you could see that the other night and we have sold-out the first European game, so they want to come and they are ready to come with us", Gerrard told Rangers TV.
Speaking after the match Gerrard said: "I think there are a lot of positives to take from the game - we won it and got a clean sheet".
Shkupi head coach Zekirija Ramadan was clearly unhappy at the award of the controversial penalty converted by Tavernier, the visitors convinced Amir Bilali got a touch on the ball as he challenged Murphy.
"There is still a lot of work to do but I don't think we can fault any of the players tonight".
"But one concern would be we should have won the game a lot more comfortably".
"The clean sheet is very important and it was nice to get a bit of relief with the second goal".
"I was satisfied with the result and satisfied with parts of the performance", said Gerrard.
"We should have put the whole tie to bed and won more convincingly".
"But, we controlled a lot of it, most of it, and we were a bit careless at times in little moments but all-in-all, it's the first game of the season - the first real game and people are trying to over impress and people are still a little bit tense".
"All in all we are satisfied".
"I thought there was a bit of anxiety and tension in our first-half performance".
"But it was the first time some of them have played in front of a full house here with that atmosphere".
"I felt we should have had the game done by the time we got the second goal with the chances we created".
"I am happy with the control and how much a better team we look". But, we all have to look forward to Tuesday and realise we are still in a game and it's not over. He deserved that debut because of how he played against Bury but also because of how he has done since the first day of pre-season. They were very good chances. "It's just a shame we couldn't reward them with goals three and four".