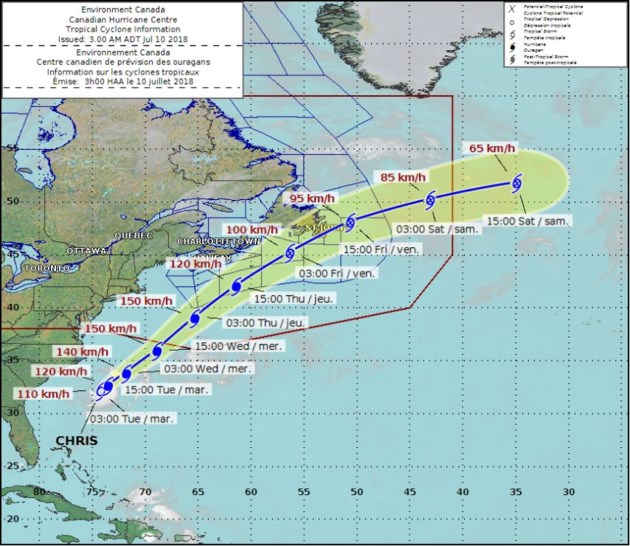 The report is available in Spanish at: Centro de Operaciones de Emergencias.
Tropical Storm Chris was upgraded to hurricane status Tuesday after it increased in speed and strength as forecasters warned that it would bring unsafe rip currents to the Jersey Shore this week. Chris had reached hurricane status in the mid-Atlantic for a period.
Chris was moving toward the northeast near 22 miles per hour (35 kph). It might strengthen even more Wednesday afternoon and get close to Category 3 hurricane - marked by 111 miles per hour sustained winds. Eye formation is typically an indication of winds reaching the minimum hurricane threshold at 74 miles per hour. According to WRAL meteorologist Elizabeth Gardner, the storm will accelerate to the northeast Wednesday before moving over colder water in the North Atlantic and weakening. Hurricane Chris is unlikely to strike land, though NHC forecasters say it will become a "powerful extratropical cyclone" on its way to Newfoundland, bringing unsafe conditions all the same.
- Tropical Storm Chris gained hurricane status Tuesday afternoon. Its center will be near southeastern Newfoundland on Thursday night.
The storm was forecasted to dump as much as 6 inches of rain over parts of Newfoundland, which could cause flash flooding, it said. There is a 50 percent chance it re-forms into a tropical system over the weekend as it tracks east in the Atlantic and away from land.
As of Thursday evening the Canadian Hurricane Centre maintained a tropical cyclone information statement for eastern Newfoundland including, Bonavista, Burin and Avalon peninsulas.