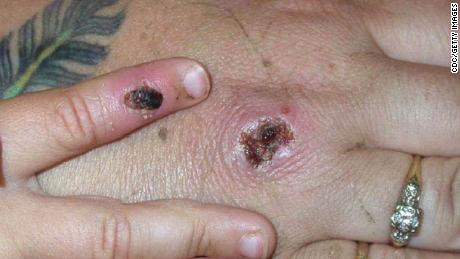 Both patients are believed to have contracted the disease in Nigeria before traveling to England, and were diagnosed days apart.
The patient was transferred to the expert infectious disease unit at the Royal Free Hospital in London on Saturday morning. They emphasize that there does not appear to be a connection between the two patients, despite the suspect timing.
Nick Phin, deputy director of the National Infection Service at PHE, said that "sporadic cases" of monkeypox have been reported since there was a "large sustained outbreak" of the virus in September 2017 in Nigeria. "It is likely that monkeypox continues to circulate in Nigeria and could, therefore, affect travelers who are returning from this part of the world".
Doctors diagnosed the first ever case of the deadly virus in Cornwall last week. The first recorded case in humans was in 1970 in the Democratic Republic of Congo.
It was recorded for the first time in the USA in 2003 and the United Kingdom in September 2018.
Monkeypox, which is related to smallpox, is not very infectious and usually causes only mild illness, although...
The virus can enter the body through broken skin, the respiratory tract, or the eyes, nose or mouth.
PHE said they were contacting a number of people who may have been in contact with the patients, including fellow passengers who traveled with the initial patient on their flight from Nigeria. It changes and goes through different stages before finally forming a scab, which later falls off.
Monkeypox does not spread easily between people and most who contract the infection recover within a few weeks, though severe illness can occure in some people.
"We are working hard to contact individuals, including healthcare workers, that might have come into contact with the individual to provide information and health advice".
The latest patient became ill in Blackpool after a visit to Nigeria and was transferred to a specialist unit at the Royal Liverpool University Hospital.
Clinical director of the hospital's tropical and infectious diseases unit, Dr Mike Beadsworth, said there was "currently no risk to other staff, patients or visitors".
"All necessary precautions have been taken by specialist staff and there is now no risk to other staff, patients or visitors".