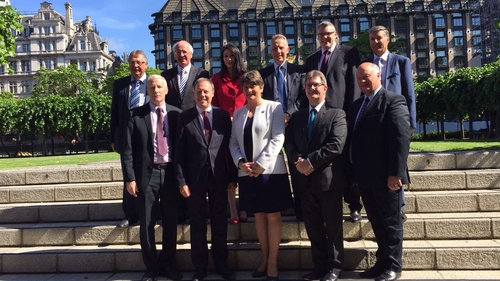 EU leaders are due to meet for dinner in Brussels next Wednesday and hope to agree a withdrawal treaty with Britain that Barnier said was 80-85 per cent ready but on which obstacles remain, notably on how to keep the new EU-UK land border with Northern Ireland from reviving conflict in the British province. Another summit in November is planned to close the deal.
But Cabinet sources said senior ministers were expected to consider the backstop plan when they met this afternoon with a view to getting the backing of the full Cabinet next Tuesday.
May gathered selected members of her cabinet late Thursday to update them on the Brexit talks, and the Financial Times reported that she told them that a deal was drawing closer. It would prevent the United Kingdom from having its own trade policy, a key demand of some of her hardline Brexiteers.
For customs and VAT, Barnier said, "we propose using the existing customs procedures to avoid doing checks at the transit points".
While talks with Brussels have intensified since May emerged from her infighting Conservative party conference last week, there has been no breakthrough.
Barnier said customs forms could be completed in advance online and the "only visible systematic checks" would involve scanning bar codes on lorries or containers on ferries or in ports.
But he made clear that the European Union envisages a deal involving new customs and regulatory checks on goods travelling from Britain to Northern Ireland, including health and sanitary inspections for 100% of animals and animal products arriving in ports like Larne and Belfast from the rest of the UK.
For industrial goods, he said it could be done by "market surveilance authorities", on-site in the companies.
Theresa May will on Thursday ask her Brexit "war Cabinet" to agree a backstop plan that would keep Britain in a customs union with Brussels until a permanent trade deal can be agreed.
Besides the Irish border issue, the key areas still to be negotiated are the geographical indications of products and the governance of the implementation of the deal.
Earlier, No 10 played down suggestions that the government was on the brink of unveiling a Brexit deal. "It will not, and it can not be business as usual", he said, adding that the European Commission has set up plans to help businesses.
EU Brexit pointman Michel Barnier and Martin Selmayr, the powerful head of the EU Commission's bureaucracy, briefed commissioners on progress just a week before the October 18 meeting that has been dubbed a "moment of truth".