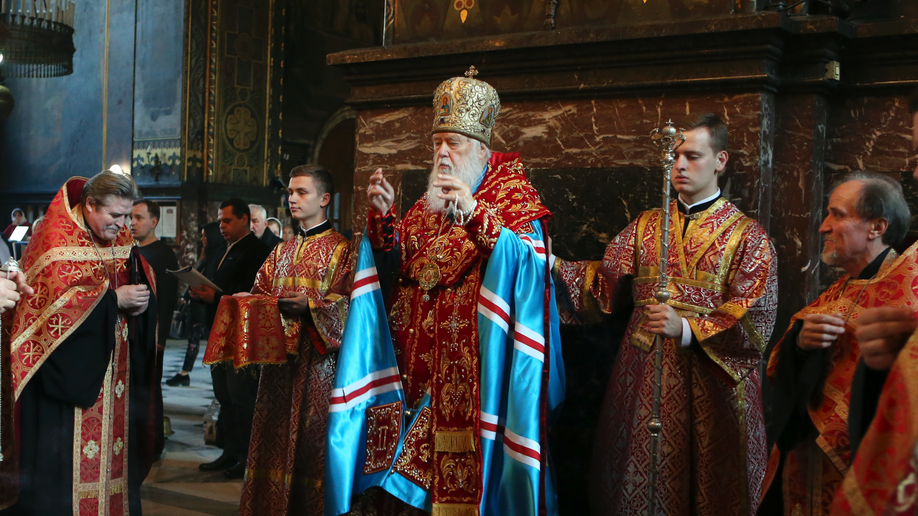 It also chose to "accept and review the petitions of appeal of Filaret Denisenko, Makariy Maletych and their followers, who found themselves in schism not for dogmatic reasons, in accordance with the canonical prerogatives of the Patriarch of Constantinople to receive such petitions by hierarchs and other clergy from all of the Autocephalous Churches".
The decision was made during a meeting held at the Fener Greek Patriarchate in Istanbul, a bishop said.
The Istanbul-based Ecumenical Patriarchate on Thursday said it had agreed to recognise the independence of the Ukrainian Orthodox Church, in a move welcomed with jubilation by Kiev but condemned as "catastrophic" in Moscow.
Patriarch Filaret, head of the Ukrainian Orthodox Church of the Kiev Patriarchate, speaks during a news briefing in Kiev, Ukraine, Thursday, Oct. 11, 2018.
Russia had warned against allowing the Ukraine Church to sever its ties with Moscow, with the powerful head of the Russian Orthodox Church, Patriarch Kirill, travelling to Istanbul earlier this year in a bid to dissuade the patriarchate. "I guarantee that the Ukrainian state will respect the choice of those who decide to stay in church structures retaining unity with the Russian Orthodox Church".
But the Russian Orthodox Church said that the Patriarchate had taken "catastrophic" decisions both for itself and global Orthodoxy.
The leader of the larger of the two schismatic churches, Patriarch Filaret, said he would call a council with the leadership of the other schismatic church to choose a leader of the autocephalous church.
"Moscow wants that there would be resistance; we, Ukrainians, don't want resistance", he told a briefing.
"The creation of a local Ukrainian church has been one of Poroshenko's main slogans going into the 2019 presidential election", said Volodymyr Fesenko, an analyst at Ukraine's Penta think-tank.