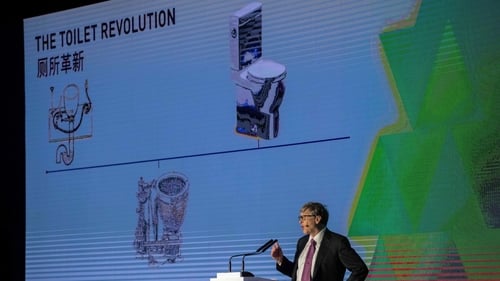 Bill Gates changed the world of technology when he founded the tech giant Microsoft.
"I have to say, a decade ago I never imagined that I'd know so much about poop", Gates joked.
"So when I talk about components of this toilet being made in China, others in Thailand, others in the United States - you really want to be bringing together all of that IQ so that you're getting that combination".
To be fair, there was a good reason for Gates' use of the unusual prop.
The Bill & Melinda Gates Foundation has spent more than $200m on researching the field across the last seven years.
Gates, and the expo itself, remained focused on the need - driven by present and future water shortages and a lack of infrastructure in many parts of the world - for toilets that process human waste without the need for water-fed sewers.
'They take both the liquids and solids and do chemical work on it, including burning it in most cases'.
Mr Gates added: "In the way that a personal computer is sort of self contained, not a big thing, we can do this chemical processing at the household level". According to the Bill & Melinda Gates Foundation, the adoption of these off-grid toilet technologies and systems could reduce the global toll of unsafe sanitation, including the deaths of 500,000 children under five-years-old each year and over $200 billion that's lost due to rising health care costs.
"This year the volume of toilets will literally be in the 100s while people are still kicking tires (testing them)", Gates said.
During his keynote, Gate held up a jar with human feces in it, noting that the amount of human waste in that jar alone contains 200 trillion rotavirus cells, 20 billion Shigella bacteria, and 100,000 parasitic worm eggs.
It is the first time Gates' foundation has addressed an event in China, where President Xi Jinping is promoting a three-year "toilet revolution" to build or upgrade 64,000 public toilets by 2020 to help boost tourism and economic growth.
The former Microsoft chief executive said the next step for the project is to pitch the concept to manufacturers, adding he expects the market for the toilets to be more than $6bn (£4.5bn) by 2030.