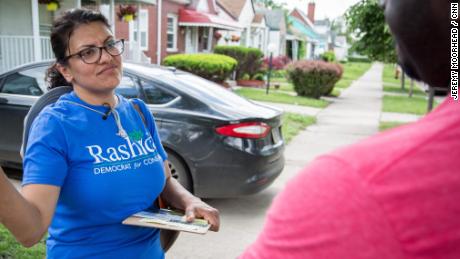 A former refugee at Daadab in Kenya will now be part of the 435-member US House of Representatives following her victory in the Minnesota congress elections.
U.S. voters elected two Muslim women, both Democrats, to Congress on Tuesday, marking a historic first in a country where anti-Muslim rhetoric has been on the rise, American networks reported. She will succeed the first Muslim congressman, Keith Ellison, who vacated the seat to run in Minnesota's attorney general race. She arrived in the USA, aged 14, after fleeing civil war in Somalia.
The 2018 USA midterms, widely billed as a referendum on the presidency of Donald Trump, saw voters make history by electing Rashida Tlaib and Ilhan Omar on the Democratic ballots as part of the wave of opposition that saw huge numbers of women running for public office.
Who are Rashida Tlaib and Ilhan Omar? She immigrated to the United States at age 12 and served as a Minneapolis City Council policy aide before winning election to the Legislature in 2016.
She shared: "We changed the course of history at a time we thought it was impossible".
Her campaign platform included pledges to secure a $15 minimum wage, preventing cuts to welfare programmes, such as Medicare and Social Security, as well as stopping tax relief to large corporations.
The two politicians will increase the total number of Muslims in the House to three.
Another Muslim woman, Ilhan Omar, who is running in Minnesota's 5th District, is also expected to win.
US Muslim civil rights groups say a lot of anti-Muslim rhetoric comes from the media, as well as the country's political establishment.