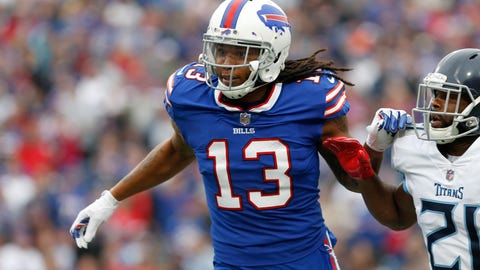 Benjamin was released by the Buffalo Bills after the Week 13 loss to the Miami Dolphins, going unclaimed on waivers. On Thursday evening, it's been reported that he's officially signed with another team already.
The free-agent wide receiver is signing a one-year deal with the Kansas City Chiefs, according to ESPN's Adam Schefter.
Benjamin, 27, joins one of the NFL's best offenses which features Pat Mahomes at quarterback and former Bills first-round pick Sammy Watkins at wide receiver. This was the case at times with the Bills this year, as he piled up 23 catches on 62 targets for 354 receiving yards and a touchdown.
Benjamin's best season came in 2014 for the Carolina Panthers, who drafted him that year in the first round.
His 73 catches are still the seventh-most by a rookie in National Football League history. He then was acquired by the Bills in November 2017 for third- and seventh-round picks in the 2018 draft.
Benjamin was collegiate teammates with Chiefs' offensive lineman Cameron Erving and linebacker Terrance Smith at Florida State, where all three players shared the field together during the Seminoles' championship season in 2013.