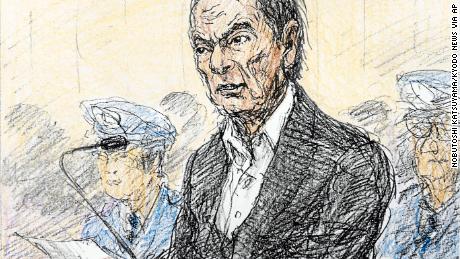 At his dramatic court appearance on Tuesday, Ghosn appeared to have lost a lot of weight in detention but otherwise seemed in good health.
Ghosn, 64, has been locked up in a small Tokyo jail cell with a toilet and wash basin since his arrest November 19.
Lawyers for the former jet-setting executive immediately said they would file a bail application, but have acknowledged that he will probably be detained until a trial.
The breach of trust charge is regarded as particularly serious, and Ghosn's lawyer admitted on Tuesday that his client was unlikely to secure bail if prosecutors pressed the charge formally.
Friday marked the last day of Ghosn's most recent detention period approved by the Tokyo District Court, and prosecutors had to decide whether to indict or release him. Those allegations center on Ghosn's handling of investment losses and payments made to a Saudi businessman.
The French government has stood by Ghosn so far, saying he must benefit from the presumption of innocence.
"I have a genuine love and appreciation for Nissan", Ghosn told the court.
"I believe strongly that in all of my efforts on behalf of the company, I have acted honorably, legally and with the knowledge and approval of the appropriate executives inside the company - with the sole goal of supporting and strengthening Nissan, and helping to restore its place as one of Japan's finest and most respected companies".
Nissan also faces an indictment over the latest compensation reporting issue, said the person, who spoke on condition of anonymity due to the sensitivity of the issue.
It would be "very hard", said Motonari Otsuru.
While declining to comment on specifics, Deputy Chief Prosecutor Shin Kukimoto told reporters that suspects who get indicted usually will be detained for several months.
Carlos Ghosn was hit with a third set of charges on Friday.
He may be accused of understating his salary from 2015 to 2018, three years more than the original charge that he under-reported some five billion yen ($44 million) in income over five years from 2010.
Before his sudden downfall, Ghosn was a respected figure in the global auto industry, having rescued the Japanese automaker from near-bankruptcy, building its sales operations and profits and pioneering ecological vehicles. Nissan Chief Executive Hiroto Saikawa has denounced Ghosn, accusing him of using the company's money and assets for personal gain.
Meanwhile the Renault board on Thursday said that an ongoing audit into executive pay had found no sign of fraud in the last two years. The review was initiated after Ghosn was arrested. From the start of the meeting, it has been reiterated that the Board remains steadfast to their alliance partnership with Mitsubishi and Renault as well.