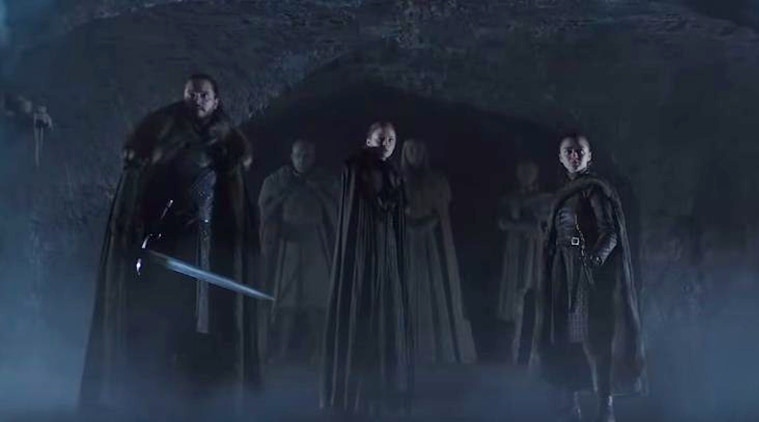 The popular fantasy series now intrigues the fans even more with the makers dropping the first teaser with three of the most important characters of the hit HBO show. This is the story of Jamie Campbell Bower, whose relationship with Game of Thrones has enough twists to do George R.R. Martin himself proud. As confirmed on Sunday night, Season 8 will debut on April 14.
In the teaser, as Jon, Arya, and Sansa are staring at the statues, something makes them turn around.
This eighth season is only six episodes long, which means the finale should be on May 19 if HBO doesn't skip any Sundays.
Season 8 will be the final season of Game of Thrones and will include eight episodes to conclude the series. Surely fans will continue to speculate until the tension is finally released on April 14th.
As Jon is walking through the crypt, he passes a statue of Lyanna Stark, which is Ned's sister and Arya and Sansa's auntie.
Jon has yet to find out he's half-Targaryen and half-Stark, but that revelation will surely be a major part of his storyline on the coming season.
While Arya and Jon draw their swords out, preparing to fight, Sansa - as usual - doesn't do much.
Meanwhile, Daenerys (Emilia Clarke) and Jon were busy having incestuous sexy times on their journey back to Winterfell after securing a fake truce from Cersei (Lena Headey). It's not footage from within the final season but more like an original promotional ad.
And in a true Game of Thrones sense, this trailer echoes what Ned Stark always tell his children: "When the snows fall and the white winds blow, the lone wolf dies but the pack survives".
Although the new season will only run six episodes, each one is reportedly 90 minutes long, effectively making them six television movies.