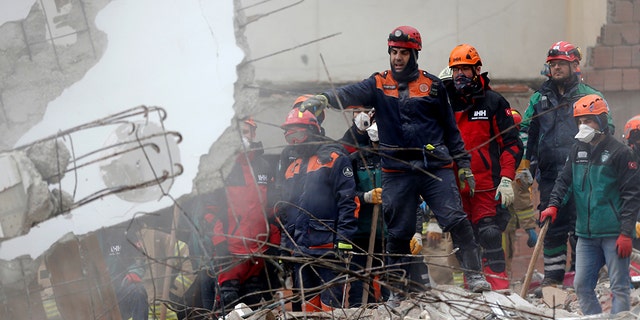 The death toll from a building collapse in the Turkish city of Istanbul has risen to 17.
President Tayyip Erdogan talks to residents as he visits the site of a collapsed building in Istanbul, Turkey, February 9, 2019.
The eight-story building in the city's Kartal district collapsed on Wednesday.
"There are lessons we need to learn", Erdogan said, visiting the building site.
"The number of those who lost their lives has climbed to 15", Health Minister Fahrettin Koca said, quoted by Hurriyet newspaper and DHA news agency. The toll is up from a figure of 15 on Friday with 13 injured.
"We estimate that there were 35 people trapped under the rubble and we have now accounted for 35", he said while stressing that search operations would continue as before.
Rescue teams were last night still searching the rubble of an apartment block in Istanbul after a local official warned that there could have been as many as 30 people inside when it collapsed on Wednesday.
Environment Minister Murat Kurum, who accompanied Erdogan, said the block housed 14 apartments and three businesses.
The cause is under investigation but officials have said its top three floors were illegally built. They have criticized a government decision to grant amnesty for illegal construction a year ago ahead of the country's general election.
Engineers and architects regularly sound the alarm against illegal additional storeys to buildings which they say weaken the constructions' structure, and put them at greater risk in the event of an natural disaster.
A four-storey structure in Istanbul collapsed past year following violent thunderstorms. In January 2017, two people died when another building collapsed in a working class part of town.