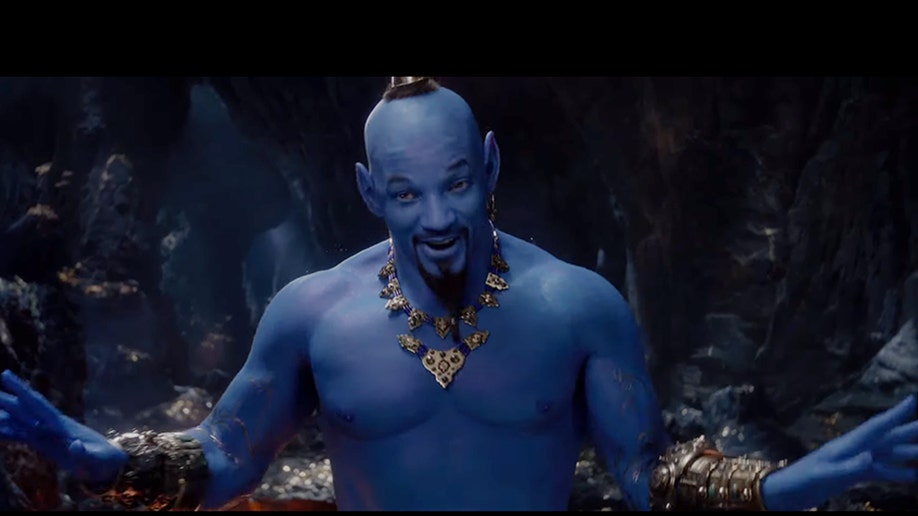 But the best bit comes right at the end as Aladdin, with Apu and a pixel-perfect CGI Magic Carpet right behind, rubs the magic lamp for the first time, unveiling the big lovely blue Smith.
Disney aired a new full trailer for its live-action adaptation of the animated film during the 61st Grammy Awards on Sunday night. We get our first glimpse at Aladdin's faithful monkey companion Abu, hear what appears to be the first taste of Marwan Kenzari's take on the nefarious Jafar, and cop a short taste of an elaborate procession sequence that could potentially mirror the Prince Ali procession from the OG. Smith, as Genie, asks. "Genie? Wishes? Lamp? None of that ringin' a bell?"
Check out the trailer below.
Smith posted the trailer to his Instagram, writing, "I told y'all I was gon' be Blue!" Is it even possible to live up to the expectations for that character?
Just saw the #Aladdin preview.
I gotta say, it is pretty weird seeing this big blue dude with Will Smith's smiling face plastered on top.
"He was big enough to feel like a force - not so muscular that he looked like he was counting his calories, but formidable enough to look like you knew when he was in the room", he explained.
Directed by Guy Ritchie, the man behind 2009's Sherlock Holmes, Aladdin hits theaters on May 24.