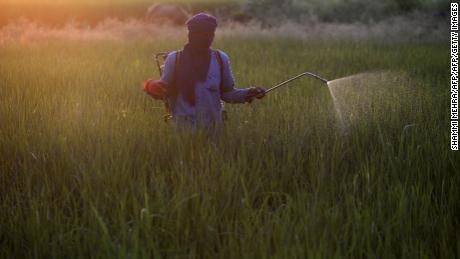 If the decline continues at this rate, insects could be wiped off the face of the Earth within a century.
The warning was issued in a global review of insect declines, in which the authors called for a dramatic rethinking of agricultural practices and better strategies for cleaning polluted waters.
The review, which looked at 73 studies conducted around the world, claimed that more than 40 per cent of insect species are now declining, adding that the rate of extinction is about eight times faster than the respective rate for birds, mammals and reptiles.
"Because insects constitute the world's most abundant and (species-diverse) animal group and provide critical services within ecosystems, such events can not be ignored and should prompt decisive action to avert a catastrophic collapse of nature's ecosystems", they wrote.
Furthermore, scientist Francisco Sánchez-Bayo states that "if insect species losses can not be halted, this will have catastrophic consequences for both the planet's ecosystems and for the survival of mankind", while adding that the 2.5% rate of annual loss over the last 25-30 years is "shocking".
In a November New York Times report about a possible "insect apocalypse", scientists were asked to imagine a world with no insects. The study takes a look at 73 historical reports which have hinted at the death of insects around the world, finding that the mass of all insects on Earth is declining by 2.5% per year.
While researches have also noted Urbanisation and climate change are significant factors.
Last year, one study found that flying insect populations in German nature reserves declined by more than 75% over the duration of a 27-year study, meaning that the die-off is happening even beyond areas affected by human activity.
The researchers found that declines in nearly all regions may lead to the extinction of 40% of insects over the next few decades.
"Second is the increasing use of fertilizers and pesticides in agriculture worldwide and contamination with chemical pollutants of all kinds".
Insects are also being hit by biological factors, such as pathogens and introduced species, and by climate change, where rising temperatures could affect the range of places where they can live, it says. We actually need them for all of our ecosystems to function properly - they represent food for other creatures, pollinators and they are also recyclers of nutrients. Drastically reduce pesticide use and redesign agricultural systems to make them more insect-friendly.