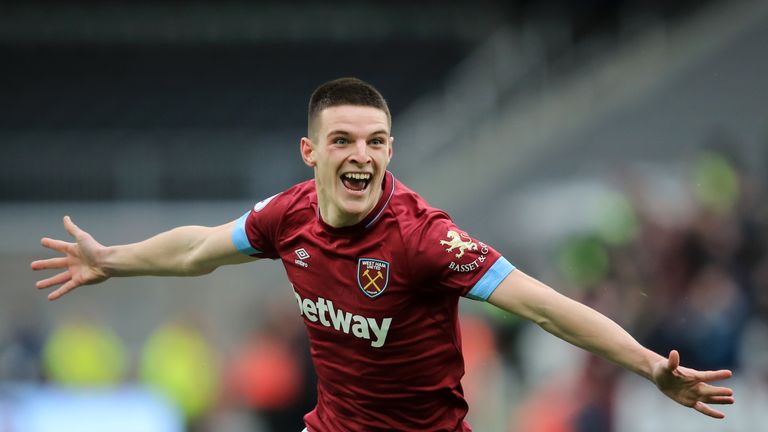 Declan Rice is in contention for Gareth Southgate's plans for this summer's Uefa Nations League finals in Portugal after deciding to switch his worldwide allegiance from Ireland to England.
The Football Association of Ireland can confirm that Declan Rice (West Ham United) has opted to purse his worldwide career with England.
Rice played three senior internaitonal games for Ireland in 2018 having previously represented Ireland at underage level.
Rice, whose grandparents are from Cork, agonised over his decision for some months and consulted England boss Gareth Southgate, former Ireland manager Martin O'Neill and his successor, Mick McCarthy.
"This has been an extremely hard decision and, in all honesty, not one I ever expected to be making at this stage of my career".
In a statement Rice said: "This afternoon I telephoned both Mick McCarthy and Gareth Southgate to inform them of my decision to submit a written request to Federation Internationale de Football Association for the transfer of my worldwide registration from the Republic of Ireland to England. I am truly grateful for the support I have received in leading to this decision", he said.
'I have equal respect and love for both England and Ireland and therefore the national team I choose to represent is not a clear-cut, simple selection. Particularly not for a young lad who never dreamed of being in this position.
I fully accept that some Irish supporters will be disappointed ... It was a great honour for myself and my family, and something I will always cherish.
Back in September, the defensive midfielder asked for time out to decide his global future as winning a competitive cap for the Boys in Green would have tied him to the country for the remainder of his career. "Good luck to him", McCarthy said.
The players probably have mixed feelings too but one who wished Rice all the best was Reading and Ireland star David Meyler.