Roads and bridges were swept away, slowing rescue efforts by the military, government agencies and non-governmental organisations, he said.
The World Meteorological Organization said that although the storm is now weakening, it has affected "tens of thousands" of people living there as heavy rain is expected to pelt the country over the next several days.
At least 19 people died in Mozambique, according to the government, while a further 24 perished in Zimbabwe, state-owned Zimbabwe Broadcasting Corporation reported.
"The information we have so far is that over 100 people are missing and some of them" may have died, Joshua Sacco, a member of parliament in Chimanimani district, told AFP.
People fled from their homes to the slopes of mountain and were waiting to be rescued, but strong winds have hampered helicopter flights.
Zimbabwe's opposition Movement for Democratic Change spokesman Jacob Mafume tweeted that there is a "serious humanitarian crisis" unfolding in eastern Zimbabwe districts.
Even before the cyclone made landfall on Friday, heavy rains earlier in the week had already claimed 66 lives and forced 17,000 people from their homes in Mozambique, local officials said.
They had also affected neighbouring Malawi, where 56 people died and almost a million others were affected, the government said.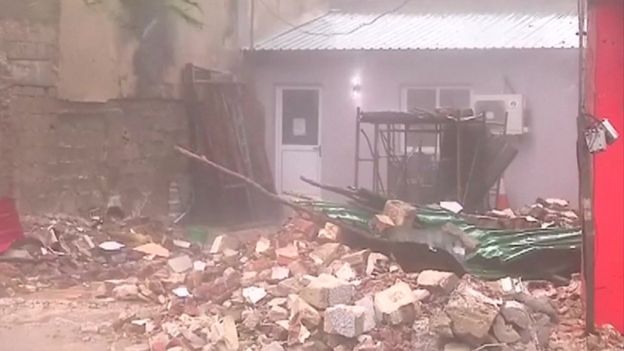 In February 2000, Cyclone Eline hit Mozambique when it was already devastated by its worst floods in three decades.
"The situation is dire but we don't know the exact particulars", said Jamie LeSueur, the Red Cross's roving emergency operations manager for Africa.
It would require "the full force of the humanitarian community behind the government of Mozambique to respond to rapidly", he told AFP.
An official at the National Institute of Disaster Management (NIDM) of Mozambique told AFP on Friday "there is extreme havoc".
Hundreds were left stranded at Mozambique's Maputo International Airport when the country's national airline carrier LAM canceled all of its lights to Beira and Quelimane on Wednesday.
The storm damaged a Mozambican transmission line to South Africa, cutting supplies by 900 MW and worsening an electricity shortage in SA.
South Africa's military has sent in aircraft and 10 medical personnel to help in Mozambique and Malawi, it said in a statement on Saturday.